Post by The Other One on Feb 8, 2020 18:00:00 GMT -5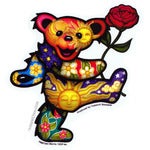 Last night I walked from my house to my camper to retrieve my rain coat. As I turned the corner, in the dark, I stepped on a piece of firewood that I didn't see. As I fell to the ground I could hear my leg break. It's one of those things that when you hear it there is no doubt as to what happened. It was raining and I was lying in the mud in the dark. Fortunately Vickie pulled into the drive within about a minute. I said to her you need to call 911 right away. I laid in the mud, in the rain for what seemed like forever waiting on the rescue squad. It was probably only 20 minutes. The EMTs showed up and got out of the rescue squad. Apparently they forget to put the vehicle in park and set the parking brake. When they got out the vehicle rolls down my driveway, crashes into Vickie's car pushing the car out of the drive and into the yard. Keep in mind I'm still lying in the mud, in the rain watching this happen while the girls are scurrying out of the way. Bizarre but true.
They load me onto the stretcher and into the rescue squad, now known as Christine, while we wait for a second vehicle. Now they unload me from the first truck and into the second and off we go. They put my ankle back into place and splinted my leg and sent me home. My current streak of never spending the night in the hospital remains intact after 58 years. Won't know if I need surgery yet, will find out next week.
Current situation... laid up at home on Loritab disappointed that I now have to cancel my trip to Nashville next week that I have planned for months. No worries, many have it much worse than I. I'm just glad that situation didn't turn out worse than it did.
This is an example of truth is stranger than fiction. You can't make this stuff up. I should be back up and dancing by the time festival season rolls around.
**Cheers**
Steve
If this wasn't so tragic for you especially and for Mrs. TOO's car, it would be funny. Someday it will give us all a good laugh but until then, sending healing vibes for a fast recovery. We'll all laugh together at Lockn'. Give the Mrs. a hug. I'm sure sure could use some comfort, too.
When I read this at first I thought it said it was tragic "especially for Mrs. TOO's car" and I lol'd. Several of my friends are quite concerned about the car, some of them even asked about me

. As for me, life is good and I'm hanging in there. I'm not one to feel sorry for myself. Many people are worse off than I and this is but a small speed bump in my life. I'll find out Monday what the next steps (see what I did there?) are...
Have a great weekend all!